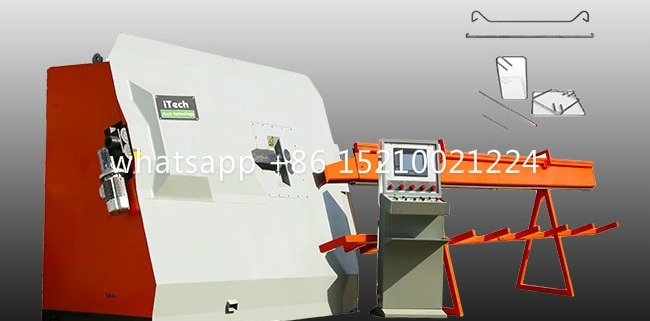 16mm stirrup bending machine
Rebar stirrup bender best price in China, customer get think well of Itech stirrup bending machine
Rebar stirrup bender best price in China, Itech Best selling CNC stirrup bending machine / CNC stirrup bender ,customer was used stirrup rebar bender more than 1 years in iraq, rebar bender machine help him improve production capacity in  cut and bend factory system.https://www.facebook.com/itech.bendingmachine/
series of wire bender machine,like  CNC Stirrup Bending machine,CNC stirrup bar bending machine,stirrup wire bending machine and bar shape machine.advanced feeding system to avoid twist of steel, making standard rate reached 100%; cutting structure is used multi-faceted with a knife design, improve the rebar bender knife life. With international servo drive, big production capacity so that can meet requirement.
Automatic Stirrup Bending Machine,also called rebar bending machine, it use movable touch screen make operate more stable,the high efficiency also high endurance and humane designs used stirrup bending machine.
12mm stirrup rebar bender, 16mm stirrup rebar bending machine, it can feed by double steel wires .
Stirrup Bending Machine has high precision servo motor control,  bending stirrups graphics library, convenient to choose and work smoothly.
The advanced feeding system is feature with anti twiststirrup bending machine,it can anti-twist steel, make stirrup more standard,ring making more accurate. So it have many advantages than traditional stirrup bender of peers in China.
itech wire bending machine were sold to all over the world ,customer used CNC stirrup bending / usded CNC stirrup bender successfully in middle-east and others countries.We congratulations to thoes successful customers.here is video from our customer,let see what his feeling after used automatic stirrup bender;
Itech as one professional steel wire/bar processing machinery China supplier,stirrup bending machine, rebar bending machine,cage making machine,,steel wire straightener, wire mesh welding machine,rebar shear line,sawing&threading line and related cnc plasma cutting machine, laser cutting machine can meet different customers' requirement.https://itechbendingmachine.com/
https://itechbendingmachine.com/wp-content/uploads/2022/07/stirrup-bender-long-stirrup-1.jpg
422
650
itech
https://itechbendingmachine.com/wp-content/uploads/2020/10/itech-bennding-machine-logo.jpg
itech
2022-09-18 19:10:39
2022-09-18 19:23:35
Rebar stirrup bender best price in China, customer get think well of Itech stirrup bending machine