Wire & Tube Dusseldorf 2022
Wire & Tube Dusseldorf 2022
Itech planed attend Wire & Tube Dusseldorf 2022, but it have to cancel for the corona virus problem. International Wire and Cable Trade Fair,International Tube and Pipe Trade Fair,It is Related industries ,Mechanical Components and Metal Working Industries.
It is also held Cycle every 2 years.it is on June 20 – 24, 2022, Dusseldorf (Germany),Düsseldorf Exhibition Centre.Itech as professional steel wire / bar machinery China supplier.Itech planed attend Wire & Tube Dusseldorf 2022, but it have to cancel for the corona virus problem.
Itech as rebar stirrup bender,rebar double bending machine,pile cage welding machine, wire mesh welding machine,straightening and cutting machine supplier.
In recent years, tWire & Tube Dusseldorf has also been transplanted to China, Russia, Brazil, the Middle East and Southeast Asia, and its comprehensive influence is more far-reaching. About 50% of the trade visitors come from outside Germany, the source of the audience
The main countries are France, Italy, the United States, the United Kingdom, Brazil, Spain, India, the Netherlands, Austria, Turkey, Switzerland and Belgium. 62% of the visitors are from the industrial sector, 21% from the retail sector, and 5% from the handicraft and trade sector. Tube visitors are mainly focused on pipes (57%), pipe processing machinery (26%), pipe materials (23%) and pipe production machinery (22%). Viewers will accessories (18%), profiles (16%) and profile production machinery (10%) were cited as the main factors that attracted them to visit Tube 2014. The quality of the audience is unanimously appreciated by the exhibitors, and the international status of Düsseldorf as an industry information release has once again been corroborated.
It is no exaggeration to say that almost all the important companies in the pipe, wire and equipment industry will appear at this biennial event, showcasing their wire machinery, pipe machinery, equipment and products, becoming a direct exporter of small and medium-sized enterprises. It is an important opportunity to show products to the European market and develop the market.
stirrup rebar bender, wire mesh machine, cage making machine will have good market there.
Itech as one professional steel wire/bar processing machinery China supplier,stirrup rebar bending machine, rebar bending machine,cage making machine,,steel wire straightener, wire mesh welding machine,rebar shear line,sawing&threading line and related cnc plasma cutting machine, laser cutting machine can meet different customers' requirement.check website http://www.itechbendingmachine.com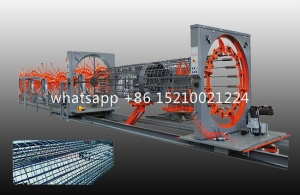 https://itechbendingmachine.com/wp-content/uploads/2022/06/289894776_5196225870414318_217032712131794711_n.jpg
540
810
itech
https://itechbendingmachine.com/wp-content/uploads/2020/10/itech-bennding-machine-logo.jpg
itech
2022-06-25 18:45:46
2022-06-25 18:46:42
Wire & Tube Dusseldorf 2022