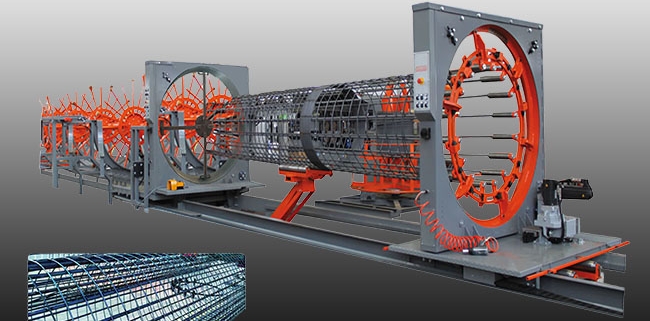 steel pile cage welding machine
Pile rebar cage making machine in steel  cut and bend factory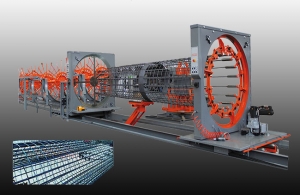 CNC steel cage welding machine is for steel processing and making steel cage.it is controlled by PLC.With CNC steel cage welding machine and rebar stirrup bending,it ended the history of manual binding of steel cages.It has improved the efficiency to make bridge and high-speed railway.it is wildly use in construction site, precast company, concrete company and steel cut and bend factory.
FIrstly according to the construction requirements, the main steel reinforcement of steel cage is fixed by manually. It have fixed rotating disk and mobile rotating disk.
steel bar pass through the corresponding template circular hole of the fixed rotating disk.
fixthe corresponding hole of the moving rotating disk.
Wind the spiralwire head to main bar.
The rotating disk and the mobile rotating disk rotate (the moving disk rotates while moving back), and simultaneously welds to form the product reinforcement cage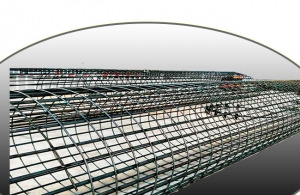 this is the bored pile reinforcement cage welding machine, that is The working principle of "rebar cage forming machine".It has feature as following:
◆ Fast processing speed: usually, the material preparation and cnc cage welding parts are divided into two shifts. 10 people can process more than 20 pieces 12-meter-long rebar cage (material preparation, seam welding, reinforcement installation, detection Tube installation, guide pad installation, etc.), the work efficiency is very high.
◆ The processing quality is stable and reliable: due to CNC mechanization, the spacing between the main reinforcement and the winding reinforcement is unifor. the diameter of the steel cage is the same, and the product quality fully meets the specification requirements. In practice, when manually producing steel cages, engineering supervisors go to the processing site for inspections almost every day. when the use pile cge making machine, the supervisors basically implement "inspection-free" on the mechanized steel cages.
◆ There is no need for lap joints to tighten the stirrups, which saves 1.5% of materials compared to manual work, and reduces construction costs.
◆ Since the main reinforcement is evenly distributed on its circumference.it is convenient when multiple reinforcement cages connect. It saves lifting time.
◆ The pile cage making machine is guaranteed in terms of quality control.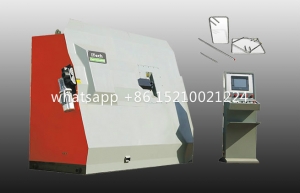 Itech as one professional steel wire/bar processing machinery China supplier,stirrup bending machine, rebar bending machine,pile rebar cage making machine,,steel wire straightener, wire mesh welding machine,rebar shear line,sawing&threading line and related cnc plasma cutting machine, laser cutting machine can meet different customers' requirement.
https://itechbendingmachine.com/wp-content/uploads/2021/08/cage-machine-big.jpg
422
650
itech
https://itechbendingmachine.com/wp-content/uploads/2020/10/itech-bennding-machine-logo.jpg
itech
2021-08-28 17:52:54
2021-08-28 17:52:54
The advantage of automatic pile rebar cage making machine in steel cut and bend factory