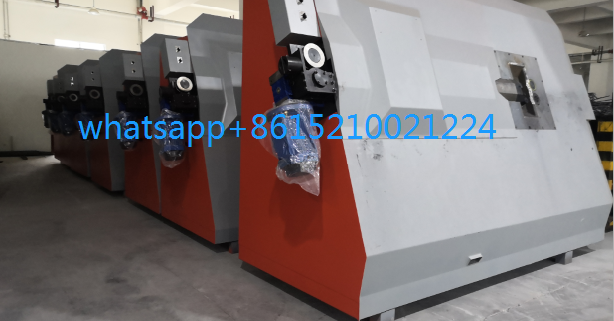 steel reinforcement stirrup bending machine
In the process of traditional reinforcement steel automatic stirrup bender machine iron forming , it is mainly realized by manual or semi-mechanical methods. Therefore,the cross-sectional dimensions, length of straight sections, and stirrup bending angles are not standardized and standard. it will affect the construction quality in the construction field If you directly, but if the stirrups that do not meet the standards are reprocessed, the cost of bending hoops will be greatly increased invisibly, so the application of fully automatic steel bar bending machines have importance great significance.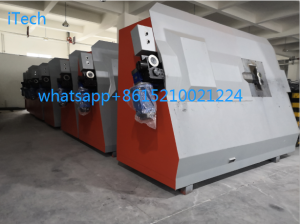 Itech have a series of steel rebar bender machine,like  CNC 16mm Stirrup Bending machine,CNC stirrup bar bending machine,stirrup wire bending machine and bar shape machine.advanced anti twist feeding system to avoid twist of steel, make stirrup more quick and standard. Rebar cutting system is used multi-faceted with a knife design. With international servo drive, high speed to feeding,big production capacity was highly improved.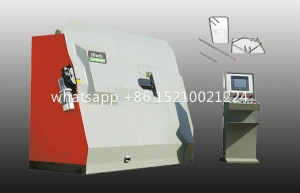 Automatic stirrup bender can process different shapes of various sizes and specifications steel bar, such as rectangle, polygon, rectangle, etc., it can meet the actual needs of complex stirrup bending. In the process of reinforcement steel rebar processing and iron forming, it is dependent on the number and skills of operators, It showed that automatic stirrup bender practicability is very strong.The whole process from the wire rod raw material to the production of the rebar stirrup formed at one time, and the cold-rolled and hot-rolled high-strength wire rod steel bars can be processed at the same time, and the applicability of the processing is very strong. In addition, in the process of use, the straightening work area and cutting work area required by traditional bending processing can be directly discarded, so the dependence on the use environment is significantly reduced, and the production efficiency is significantly improved. In addition, during the application process, the loss of steel reinforcement materials is effectively controlled, which has a positive effect on reducing processing costs and improving resource utilization efficiency. It can be seen that the application of the new mechanical bending machine has a positive effect on improving the standardization and standardization of steel bending hoops, reducing the cost of bending hoops, improving the efficiency of bending hoops, and reducing the difficulty of bending hoops.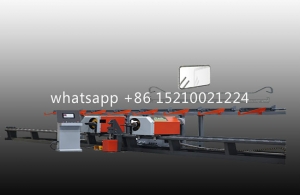 Cut and bend factory is widely use automatic stirrup bending machine, automatic rebar shear line,rebar double bender. Like make 32m bridge building girder structure, and the total weight of steel bars required is more than 62t. If the traditional steel bar bending hoop technology is used, the construction progress of the project will be affected. Therefore, an automatic CNC hoop bending machine is introduced to carry out for the automatic processing of beam body steel bars, the realization of the entire automatic processing process is not only the automatic CNC stirrup bending machine, but also rebar shearing line and rebar CNC double bending center. The automatic CNC rebar hoop bending machine used in the project is composed of electrical control, pay-off frame, straightening structure, traction structure, shearing machine, bending structure and operating table, combined with the actual needs of bridge box girder structural design, in During stirrup bending and rebar iron forming process of the , the main production is the connection bar with a diameter within 12mm.cut and bend factory adopts a fully enclosed workshop structure as a whole. It is used together with a 10t gantry crane to hoist raw materials, 2 sets of CNC bar cutting production lines and 1 set of CNC double bending steel bar complete center.the length and width of the automatic CNC hoop bending machine are 10m and 8m respectively.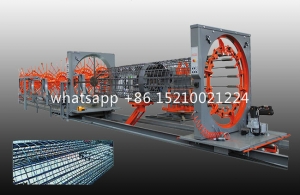 Itech is good steel wire/bar processing machinery China supplier,stirrup bending machine, rebar bending machine,cage making machine,,steel wire straightener, wire mesh welding machine,rebar shear line,sawing&threading line and related cnc plasma cutting machine, laser cutting machine can meet different requirement.
https://itechbendingmachine.com/wp-content/uploads/2022/09/1664008117058.png
459
614
itech
https://itechbendingmachine.com/wp-content/uploads/2020/10/itech-bennding-machine-logo.jpg
itech
2023-06-25 18:06:13
2023-06-25 18:06:13
automatic stirrup bender use in cut and bend factory