Lattice girder welding machine for sale factory price
Truss girder welding machine, also called lattice girder welding machine, truss girder making machine.it is wildly use in precast factory, concrete projects, cut&bend factory. Some time it work with wire mesh welding machine, steel stirrup bender machine.
lattice girder making machine integrates wire rod raw material payoff, steel bar straightening, bending and forming, automatic welding, fixing, and finished product conveying in a fully automated production line. It is successful to use in sleepers construction and other fields.
First let us see the Parameters of steel bar truss girder welding equipment:
Welding transformer power (kVA): 3*150,
Other power (kw): 130 rated voltage (volt): 380V50Hz
bar diameter (mm): 4-8
Diameter of the upper chord (mm): 5-12 Diameter of the bottom chord (mm): 5-12
Bridge height (mm): 70-270  Truss width (mm): 60-80
Truss length (mm): 1000-12000
spacing (mm): 200
Welding speed (m/min) 12-18 Welding method: resistance welding
Control method: PLC+display terminal Cutting method: hydraulic
Secondly,lattice girder welding machine is made by some parts together.

payoff
It is including brake mechanism, guiding mechanism, lack of material detection and tension detection, etc. Bearings are installed between the base and the turntable, so that the turntable can be flexibly rotated when it is working.The brake mechanism can adjust the turntable. When there is no material discharge, the parking steel plate material will not automatically fall apart; lack of material detection and tension , detection is used to stop the machine and alarm at the same time when the material is lacking or the material is stuck.
Main machine
The main machine is the main functional part of the welding machine, including tensioning parts, clamping and feeding parts, wave forming parts, upper welding parts, lower welding parts, limit parts, auxiliary feeding parts, foot bending parts, shaping parts, scissors parts, Discharge parts. Except for the discharging parts, all other parts are driven by hydraulic cylinders.
Unloading rack
The unloading rack includes a frame, a turning mechanism and an extended frame. The height of the frame can be adjusted as required; the turning mechanism is driven by an air cylinder.
Hydraulic system
The hydraulic system includes hydraulic station, hydraulic valve, regulating valve, accumulator, oil cylinder, oil pipe, water cooling system.
The hydraulic rated working pressure is 8-9MPa.
Electrical system
The electrical system includes one high and low voltage power distribution cabinet, one operating console, and pneumatic circuits for discharging and unloading.
Water cooling system: It is divided into transformer group water cooling, upper and lower electrode group water cooling, and output copper block water cooling. The water distribution is realized through the water divider, and the flow is individually controlled. It is equipped with a water flow monitor to check the water flow.To ensure that the equipment works normally and is not damaged.
Safety mechanism: use button switch to start, so as to ensure that the product caused by improper operation of employees and other reasons
Or damage to personnel. When not in operation, the solenoid valve will be automatically cut off, and the cylinder will not malfunction due to interference or other reasons.
The cooling water of the main engine is completely isolated from the high-voltage power supply, thus ensuring the safety factor during operation. In the equipment high voltage or Hazard warning signs are posted in dangerous areas.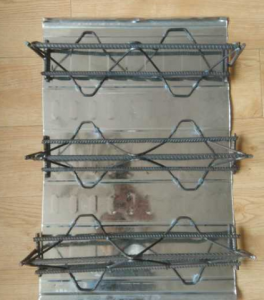 Lattice girder welding machine
Our technical advantages:
1.Automatic control of the pay-off mechanism to prevent chaotic lines.
2.The wire bending mechanism has high forming accuracy and strong stability.
3.Fully automatic aggregate mechanism reduces labor intensity and improves efficiency.
4.Intelligent fault identification and alarm system, easy to maintain.
5.Automatic steel bar truss foundation bending mechanism, high bending accuracy.
6.Control system: PLC, servo motor, frequency converter, low-voltage electrical appliances.
Itech as one professional steel wire/bar processing machinery China supplier,stirrup rebar bending machine, rebar bending machine,cage making machine,,steel wire straightener, wire mesh welding machine,rebar shear line,sawing&threading line and related cnc plasma cutting machine, laser cutting machine can meet different customers' requirement.check website http://www.itechbendingmachine.com
https://itechbendingmachine.com/wp-content/uploads/2020/10/itech-bennding-machine-logo.jpg
0
0
itech
https://itechbendingmachine.com/wp-content/uploads/2020/10/itech-bennding-machine-logo.jpg
itech
2021-07-30 19:47:27
2021-07-30 19:48:34
Lattice girder welding machine for sale factory price