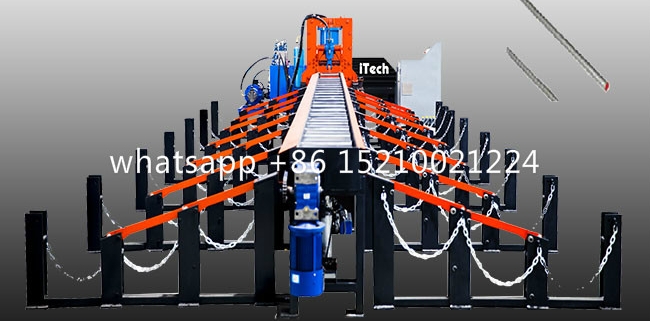 automatic rebar shear line
Automatic steel rebar shear line machine is a kind of cutting equipment mainly for large-diameter and high-strength steel bar. It can automatically cut the steel bars into the required length according to the needs, and classify and store the finished bars. machine. This machine is widely used in construction, highway and other industries. It is suitable for cutting steel bars of various specifications and cut to length. It is more suitable for cutting steel bars with many specifications and small batches. This machine reduces auxiliary labor, achieves the standard length of processed products, accurate size, high efficiency, simple installation and convenient use. In short, we strive for diversification in design to meet user needs, simple and effective, in order to reduce costs, pursue the best cost performance, and bring real efficiency and benefits to users.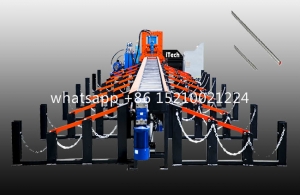 Highlight
Automatic reinforcement steel rebar shear line Product Features
High degree of automation, greatly reducing labor intensity
2. PLC combined with touch screen control interface is easy to operate
3.  The whole machine is equipped with horizontal feeding device, which is convenient for feeding
4.  Automatic cutting machine head, suitable for a wide range of steel bars, can process multiple steel bars at one time
5. Free length-sizing device, precise length-sizing system, guarantees the accuracy of length-sizing, and can be set to any length (automatic and manual).
6. Diversified material storage devices can be used in a single warehouse or combined with multiple warehouses, and can provide a variety of different combination modes. Increased flexibility for rebar storage.
7. The main engine head adopts a centralized lubrication system to ensure reliable working conditions
ITech steel bar stirrup bender. Itech have a series of steel rebar bender machine,like  CNC 16mm Stirrup Bending machine,CNC stirrup bar bending machine,stirrup wire bending machine and bar shape machine.advanced anti twist feeding system to avoid twist of steel, make stirrup more quick and standard. Rebar cutting system is used multi-faceted with a knife design. With international servo drive, high speed to feeding,big production capacity was highly improved.
Itech is good steel wire/bar processing machinery China supplier,stirrup bending machine, rebar bending machine,cage making machine,,steel wire straightener, wire mesh welding machine,rebar shear line,sawing&threading line and related cnc plasma cutting machine, laser cutting machine can meet different customers' requirement.
https://itechbendingmachine.com/wp-content/uploads/2021/12/Shear-line.jpg
422
650
itech
https://itechbendingmachine.com/wp-content/uploads/2020/10/itech-bennding-machine-logo.jpg
itech
2023-04-22 16:58:24
2023-04-22 16:58:24
What's advantage of Automatic reinforcing steel rebar shear line?