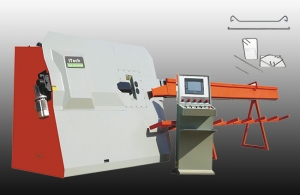 With the development of technology,the construction is more and more modern, the speed of build also have much improve. It is due to all kinds of construction machines.The rebar (steel wire or bar )machine become more and more smarter and more and more rebar machine equipment used to process steel bars, and the gradual update of products has made the current rabar machine equipment greatly increase in appearance and performance. There are about 500 factories who produce rebar machine in China, all kinds of machines, and all kinds of level, but do you know how to choose rebar bending machine suitably ?
https://itechbendingmachine.com/products/wire-bending-machine/
Regarding the diameter and requirement of production capacity for the rebar machine, there are many different rebar bending machine in construction site, cut&bend factory,including some private boss's factory. Generally speaking,there are 5 kinds of rebar bending machine in the market. To know much about the rebar bending machine, Let's see how is history in rebar bending machine and more details about the rebar bending machine.
Full manual rebar machine tool
One people with easy rebar bending machine tool to make stirrup with much labor pressure, also very slow and little production capacity. No any electric parts, no any automatic control, all are made by manual. Also it have problem that the size is not prefect when rebar bending bend shapes. This is still used at some place in Russia and Algeria and so on,i had saw from Facebook or Youtube.
Potable rebar machine
By the widely use of motor, rebar machine start to be more easy.
Applicable to steel bar bending in construction sites. This product is light in weight about 15kg, small in volume and easy to carry. The operation process is simple and safe.until now, it portable rebar bending machine is still wildly used in construction site.
The details of port steel bar bending
Technical specification
| | |
| --- | --- |
| Voltage | 220V/110V |
| No load power | 900W/1300W |
| Bending speed | 2.5-3 S |
| Bend diameter | Depends on the machine |
| Weight | About 15kg |
| Shapes size | 565*200*150mm |
Perfect use in construction site directly.
3.Simi-automatic machine
As for the construction,the consumption of steel wire/bar is huge, also they want the rebar machine to move easily.
Small manual rebar machine is simple, only one person can work at work, no training, operation will be started, good safety performance,especially the production capacity is 3-4 times of human work with easy tool.
stirrup bending machine is composed of main components such as motor, gearbox, electrical appliance, and frame.
The motor rotates clockwise through the V-belt, decelerates and decelerates through the gearbox, and then the main output shaft on the gearbox drives the bending arm to rotate. When the bending arm hits the control panel with a limited angle, the controller on the angle control panel, Automatic retreat, when the bending arm retreats and touches the micro switch, the micro switch circuit breaker motor stops and the work is completed.
The features of Small manual rebar bending machine
1)Convenient to use, good safety performance, standard angle, fast speed and convenient handling.
2)The operation is simple, only one person can work at work, no training, operation will be started, good safety performance, this machine is a fully automatic bending machine, manual control or foot button, reach a limited position, will automatically return.
3) Angle standard, this machine adjusts the angle range between 0-360 degrees, using two foot switches of 90 degrees and 135 degrees, the angle can be changed freely.
4)Fast speed, the speed of the machine is between 25-30 rpm, about 500-600 bending hoops per hour, bending 6-8mm steel bar is about 2-3 times faster than manual, bending 10-14mm steel bar is manual 4-5 times faster.
4.Small automatic rebar machine
For reduce the labor cost and make it higher efficacy,people start to consider how to use automatic machine to replace the labor and make size correct. When they face the problem of steel wire, they use horizontal straightening system and vertical straightening system in automatic rebar bending machine.this rebar bending machine is for coils 5-8mm.
Full automatic rebar machine
Small machine can't meet the requirement of huge amount of steel wire,For more and more building,the shapes of rebar bending machine also become more and more complex,also people want to much production capacity.China start to import technology from European and others developed countries, like Italy, Germany, Austria, japan and so on. 5-13mm steel wire become the mainly market in wire stirrup,except those country that no coils like Japan, Bangladesh,Korea and so on,they will use stirrup bender for bars.almost it is full automatic, shapes can choose or design from computer, can count the amount of stirrups, capacity can be about 4 tons/day/8hours, also can work all day.more and more country have cut&bend factory, they use rebar stirrup bending machine to make stirrups,and then send to construction site directly or have separate space for the bending machine and small rebar bender and cutter.
The feature of automatic stirrup bender
1.It is easy and safe to operate; it is equipped with automatic feeding and wire feeding mechanism to save time and effort for feeding and threading of steel bars. Realize bi-directional feeding and bi-directional bending to complete any size of ribs.
2.Servo control bending and feeding, to ensure the accuracy of the bending angle and size of the finished stirrup, can work 24 hours a day.
3.Intelligent fault identification, convenient fault detection and maintenance; centralized lubrication of lubrication parts to prolong the service life of equipment.
4.The man-machine interface is interactive operation, can store a variety of shapes of circle shape, ready to use.
Those are information about the rebar bending machine,according to your rebar diameter, the function, and requirement of production capacity,the labor cost,and the value of machine,you can choose easily the type of rebar bending machine.
https://www.facebook.com/rebarmachine
by the way, if you want to know much about the rebar bending machine,or you want to buy rebar machine from China, we can provide quality with good company as well.please contact me on whatsapp +8615210021224,and email daniel19910106@gmail.com.