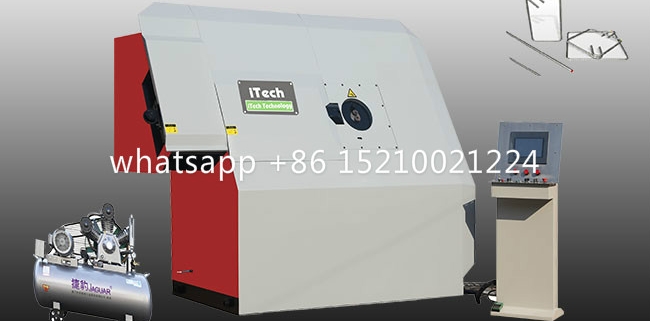 bar bending machine
China made 20mm rebar shaping machine bar bending machine factory price factory price. after rebar machine tested at local market,the 20 stirrup bending machine start to export to many countries.Best selling 20mm automatic stirrup bender machine is important equipment in the rebar bender machine industry, cut and  bend equipment, precast factory.
There are many different steel wire bar processing equipment.  CNC 16mm steel Stirrup Bender machine,CNC stirrup bar bending machine,stirrup wire bending machine and bar shape machine,rebar shear line, pile cage making machine,wire mesh welding machine,rebar sawing&threading line,rebar doubel bending machine.
Used 20mm rebar cnc automatic Stirrup Bender Machine,it have one movable touch screen.Itmake operate more convenient,speed up to 80m/min,make it high efficiency and high endurance. It is useful with such wonderful stirrup rebar bender machine.
Steel bar Stirrup Bender Machine was featured withprecision servo motor control, movable touch screen operate,full automatic bender stirrups graphics library, convenient to choose and work smoothly.
Itech 20 mm rebar bender machine
itech 20mm steel bar bending machine is testing for shipping to customer ,customer used CNC 12mm  rebar shaping / usded CNC 16mm stirrup bender successfully in middle-east and others countries.it save time and get satisfied by over-sea customer.
Itech is good steel wire/bar processing machinery China supplier,stirrup bender machine, double bender machine,cage making machine,,steel wire straightener, wire mesh welding machine,rebar shear line,sawing&threading line and related cnc plasma cutting machine, laser cutting machine can meet different customers' requirement.
https://itechbendingmachine.com/wp-content/uploads/2023/02/yt16.jpg
422
650
itech
https://itechbendingmachine.com/wp-content/uploads/2020/10/itech-bennding-machine-logo.jpg
itech
2023-02-17 17:54:15
2023-02-17 17:54:15
China made 20mm rebar shaping machine bar bending machine factory price